The Ultimate Online Course For Learning Jazz Piano - All From The Comfort Of Your Home!
Pro Membership Features
Over 40 Jazz Standard Tutorials
Learn to play the most popular jazz standards. Our Jazz Standard Tutorials teach you jazz piano the way it should be taught – through applying theory and concepts to the tunes we all love!
Pro Transcriptions & Midi Files
PianoGroove's premium Transcriptions & Midi Files give you full and accurate transcriptions of all your favourite jazz standards! Download midi files to slow down playback and change keys.
Detailed Video Series
Study complex topics step by step. Some jazz piano topics are too complicated to cover in a single video so we've created in-depth video series to help you track your progress – each step of the way.
Regular Updates
Ever get stuck on what to practice? Not anymore! At PianoGroove we add new lessons and practice materials weekly to make sure you have plenty to work on.
Pro Member Lesson Requests
We listen to our members! Are there any lesson topics that you're interested in, or maybe a jazz standard you'd love to learn? Simply request a lesson and we'll do our best to get it online.
Pro Question & Answers
Ask your burning question to our team and get prompt replies. Struggling to understand a topic or need some guidance on what to practice? Simply fill out the Pro Q&A contact form.
Take A Look Inside The Pro Member Area...
Pro Member Dashboard
Once logged into your account you will land on the Pro Member Dashboard.
From here you can navigate to all Pro Member lessons, ask the PianoGroove team a question or even request a lesson topic or jazz standard you want to learn.
There's also quick links to the Lesson Progress Tracker and the PianoGroove Blog.
Syllabus & Structured Learning Modules
Follow PianoGroove's recommended syllabus for learning jazz piano.
Structured learning modules are groups of 5 lessons that gradually increase in difficulty to help you progress step-by-step.
Lessons are grouped by topic and difficulty covering chords, scales, progressions, jazz standards and improvisation.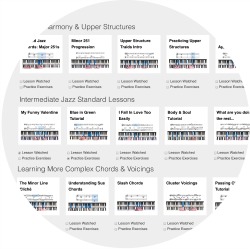 Lesson Progress Tracker
The Lesson Progress Tracker allows you to mark lessons as 'watched' to keep track of your progress and development.
Simply check the boxes to keep a personal record of jazz piano learning journey.
Your progress and activity is saved to your personal account so when you log back in, you can continue right where you left off.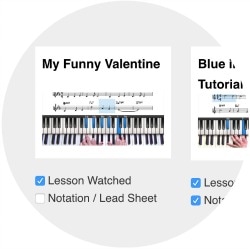 Solo Piano Arrangements For Your Favourite Tunes
Our jazz standard lessons will teach you how to create your own solo jazz piano arrangements. Learning jazz standards is the fastest way to build your knowledge of chords and to understand how to apply jazz theory in a practical context.
Full length video tutorials on:
All The Things You Are — Autumn Leaves — Beautiful Love — Blue in Green — Body and Soul — Easy To Love — Have You Met Miss Jones — Over The Rainbow — In A Sentimental Mood — Midnight Mood — Misty — My Funny Valentine — My Foolish Heart — Round Midnight — Someday My Prince Will Come — Sophisticated Lady — Stella By Starlight — Tenderly — The Shadow Of Your Smile — There Will Never Be Another You — You What Are You Doing The Rest Of Your Life — You Don't Know What Love Is
Your favourite jazz standard not listed here? Simply request the lesson and we'll get it online!
Teaching Hundreds Of Jazz Enthusiasts Worldwide!
Join students from across the globe who are learning to play jazz piano with PianoGroove Pro.
Frequently Asked Questions
Can I download lesson PDFs & midi files?
Yes. Most jazz standard lessons have a complete transcription and midi file download. You can also download PDF lesson supplements containing the lesson notation and summarising the key points.
What is Annual and Monthly membership?
Paying monthly is $39 per month which spreads the cost of learning. Annual Membership is $348 per year. This works out at $29 per month so paying annually is a 25% discount on the monthly membership!
Can I cancel my monthly subscription?
Yes. Canceling can be done easily within your "My Account Settings". You'll have full access until the end of current billing period. To restart your subscription, simply log back in with your username/password.
Do you offer a money back guarantee?
Yes. We offer an extended 90 day money back guarantee on all memberships. That's 3 full months to try it with zero risk! If you are not completely satisfied just drop us an email and we'll refund your order.
Is there a syllabus to follow?
Yes. Follow our recommended sequence of theory and jazz standard lessons. The lessons gradually increase in difficulty and are organised into mini modules. Find your comfortable level & progress step-by-step.
Are there any long-term commitments or fees?
No. You can upgrade, downgrade, or cancel your subscription at any time. We'll never charge a cancellation fee. We want to make our online learning experience as enjoyable and transparent as possible.
What Our Students Are Saying...