Course Lessons
1. Chord Voicings & Progressions

2. Voice Leading & Melody

3. Time Signatures & Hymn Styles

4. Playing In Church & Accompaniment
Course Info
Unlock This Course
Learn gospel piano online with internationally renowned gospel pianist Davell Crawford. The New Orleans keyboardist and vocalist soaked up the surrounding rhythms and harmonies that were his deep musical roots. The genius of Davell arises from his ability to play and sing the music of his passion — the music of his life.
Gospel Blues Masterclass Course
In this 10 lesson masterclass course we explore the gospel blues. This course covers gospel chord voicings, chord progressions, hymns and church songs, time signatures, introductions, leading tones, holy shout music, and how to accompany a gospel singer.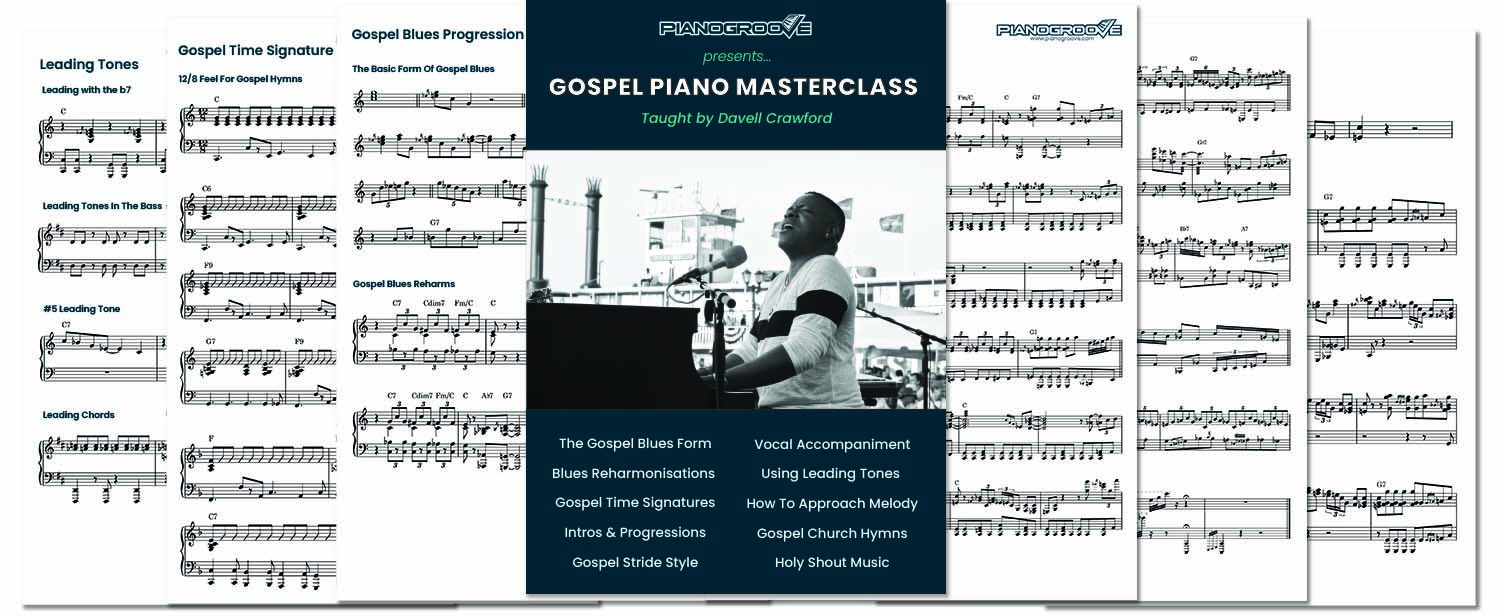 Lesson 1 is the beginning of gospel blues. We create a basic gospel blues progression using the I, IV, and V chords in the key of F. We keep the harmony simple and focus on the shuffle pattern and rhythmic feel that we play in both our left hand and our right hand.
The 1-4-5 progression is the 'skeleton' of the gospel blues and there are many ways that we can embellish this basic chord progression with reharmonisations and alternate harmonies.
Passing chords in gospel music can be seen as 'temporary stepping stones' between the core chord changes 1, 4, and 5, and they are used to enhance and decorate the simple 145 gospel blues progression.
There are a potentially infinite number of ways to play a gospel piano introduction. In this lesson we examine some of the most common gospel chord progressions that are used for introductions in churches and for solo piano performance.
These gospel chord progressions include many stylistic elements of gospel piano playing such as walk ups, walk downs, sus chords, passing chords, and turnarounds.
In this lesson we study leading tones and how they are used to create smooth connections between chords and to guide the vocalist, other musicians, the choir, or even the whole congregation.
In this lesson we discuss the importance of melody and how to approach it when playing gospel. Learning the lyrics is a very important step to become more comfortable and confident with melodic improvisation. In order to play gospel music properly, we must understand what we are playing.
In this lesson we explore the most common time signatures that are used in gospel music. We take the church hymn "What A Friend We Have In Jesus" and play the song in 4 different time signatures.
In this lesson we explore gospel stride in the key of C using the classic gospel tune "Down By The River Side". When playing gospel stride or any kind of stride on the piano we must play the bass note in our left hand and then bring our hand up to play the chord with the same hand.
In this lesson we will explore the different gospel playing styles of the same hymn "Pass Me Not O Gentle Saviour" and discuss when is the most appropriate time to use each one.
In this lesson we learn the basic shout music movements in gospel. Shout music is a style of playing found in the protestant churches when 'the holy ghost would get high'. When the holy ghost started to move people would get happy, joyful, and filled with the holy ghost.
In this lesson we will learn how to accompany a gospel singer for a solo. When accompanying a singer we must give the vocalist the foundations to rest their vocals upon.