Course Lessons
1. Course Introduction

2. Rhythmic Studies

3. Harmony & Improvisation

4. Tunes & Arrangements
Course Info
Unlock This Course
Welcome to this course on New Orleans Blues & Funk. This course is taught by Jon Cleary; British-born American funk and R&B musician based in New Orleans, Louisiana. His album GoGo Juice was the 2016 Grammy Award Winner for Best Regional Roots Music Album.
New Orleans Blues & Funk Course
In this 11-lesson course we explore the history and development of New Orleans Piano including 12/8 Grooves, Rhumba & Habanera, Blues, & Funk styles. All performances and examples are notated and available in PDF downloads for further study.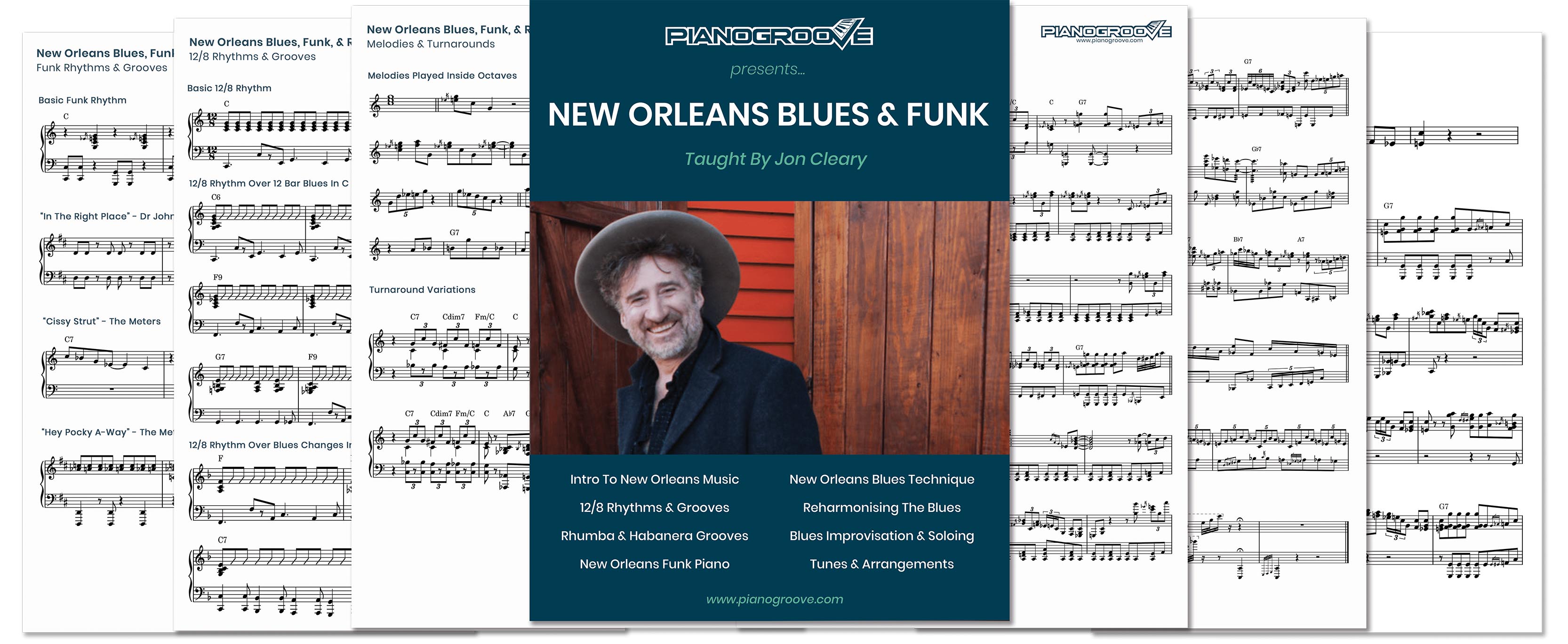 Introduction To The Music Of New Orleans
We start by introducing the music of New Orleans and exploring the core pillars that make the piano playing and the piano players from this city so hip, funky, and distinct from everywhere else.
In a New Orleans context, the piano is a percussion instrument. When we play as part of a rhythm section in a New Orleans band – especially if we are playing Rhythm N Blues or Funk, then we are tied in with the bass and the drums.
New Orleans Blues & The 12/8 Groove
The 12/8 groove is a sound that became popular in New Orleans music in the 1940/50s and continued into the 1960s. It's best associated with Fats Domino who was one of the most famous musicians to come out of New Orleans in the 20th century.
We explore a basic 12/8 groove in the key of C Major using triads and then extended voicings.
Rhumba & Habanera Grooves
The Rhumba and Habanera grooves are an important element of the rhythmic toolbox of New Orleans Piano to make the music funky.
The Rhumba is often associated with Professor Longhair. The Rhumba left hand pattern creates a broken rhythm that works for dancers. We offset the left hand pattern with our right hand by playing in the gaps.
In a New Orleans context, the Rhumba and the Habanera are very closely linked.
Introduction To Funk Music
In the earlier lessons we explored how we can break up the 4 beats of a bar, placing accents on the weak beats, and introducing dissonance in our chord voicings to make them sound 'greasy' and 'nasty'.
Funk in a New Orleans context is something that has been going on here for 100 years. In the accepted meaning of the word we are going to look at music that came out of New Orleans in the 1960s and 1970s.
The piano players that are associated with that generation and that era are Huey 'Piano' Smith, Allen Toussaint, Mac Rebennack, and to a degree James Booker.
Reharmonising The Blues
With New Orleans music it's easy to concentrate on the rhythmic aspects but the way we structure our chord progressions and harmonies is also very important.
We start by exploring some simple passing chords and formulas to move between the I, IV, and V chords. We then take the basic form of the 8 bar blues and the 12 bar blues and embellish the chord changes with passing chords, reharmonisations, and chord substitutions.
New Orleans Piano Improvisation
Playing New Orleans piano requires that we perform several roles at once. In our left hand we create foundation of the harmony by outlining the chords, often voiced with large 10th intervals.
It's our right hand that dazzles the audience. We explore some important right hand principles and techniques that we can use to create that authentic New Orlean piano sound.
New Orleans Style 12 Bar Blues
We arrange a 12 bar blues in New Orleans Style applying all of the concepts that we have covered so far in the course including: bass lines, voicings, melodic decoration, and turnarounds.
Course Overview Video
The course overview and interview video was produced by NolaVid – New Orleans' Premier Video Production Company.