Biography

Classically trained from the age of 5, Hayden's earliest inspirations are that of 18th Century Romanticism. Captivated by the tempo rubato of Frederic Chopin and later, the prodigious virtuosity of Franz Liszt, Hayden had discovered his love for the instrument. Further classical study led him to Impressionism, where the works of French composers' Claude Debussy, Maurice Ravel, and Erik Satie opened Hayden's eyes to the 'colour' of music. Hayden soon became fascinated by jazz harmony which constitutes the bulk of his online teachings. The modal musings of Bill Evans have been a key jazz influence and the Hard-Bop styles of Red Garland & Wynton Kelly are now defining Hayden's sound and artistic direction.
Styles, Genres & Skills
---
Hayden's Courses
---
Videos
---
Teaching
Location
Manchester, UK.
Types of tutoring offered
Currently just teaches through PianoGroove.
Styles & genres taught:
Arrange a lesson with Hayden:
https://www.pianogroove.com/join/
---
Event Work
EVENT SPEAKER
Hayden is a regular event speaker, delivering presentations and talks on online music marketing. His areas of expertise include online promotion, social media, digital distribution models, and building community. He specialises in developing the web presence of schools, artists, & brands.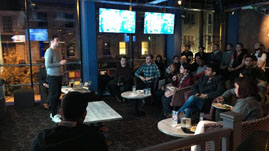 ---