Pentatonic Scale Improvisation
In this lesson I'm going to provide an introduction to pentatonic scales for jazz piano.
The theory that we cover in this lesson is important for the upcoming study of pentatonic harmony. This is where we take a 5 note pentatonic scale and create these 4th based voicings voicings that can be heard in the recordings of more modern jazz musicians such as Herbie Hancock & Chick Corea.
Similar to the pentagon, which has 5 sides, the pentatonic scale is a 5 note scale which can be used in any key for improvisation.
Pentatonic scales are the oldest musical scales in the word.
Despite the age and history of the pentatonic scale, it is used extensively in modern jazz improvisation.
In this lesson we are going to look at the construction of the pentatonic scale and discuss what gives it such a unique sound. We will then explore the application of the scale from a jazz improvisation standpoint applying the scale to number of different chord types and common progressions.
Downloadable Lesson Supplement:
Download a PDF containing the major pentatonic scales in all 12 keys: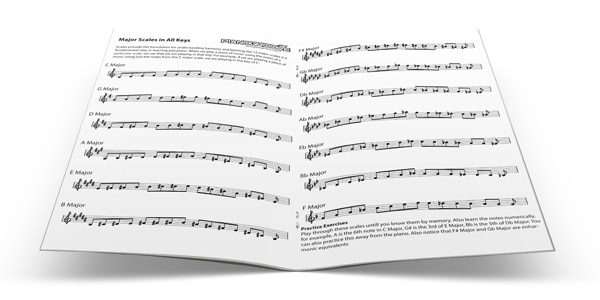 So How Do We Construct The Pentatonic Scale?
The major pentatonic scale is built from tones 1,2,3,5, & 6 of the major scale. Another way of looking at it is a major scale excluding the 4th and 7th degrees. You have a lot of freedom when playing and improvising using pentatonic scales.
This is because the dissonant intervals have been removed from the scale. The dissonant intervals occur where there are half step intervals between the scale degrees.
In every major scale, there is a half step interval between the 3 & 4th notes and another half step between the 7th and 1st note. Looking at the C Major scale. The half step intervals are between the E & F and the B & C.
Removing the dissonant intervals means that any notes of the scale can be played in any order which is why it is easy to manipulate the notes in context of improvisation.
Superimposing Pentatonic Scales
We can get some really cool sounds by superimposing pentatonic scales over different chords types and chord qualities. This kind of sound was popularised in the late 60s and into the 70s by jazz musicians such as McCoy Tyner and John Coltrane
Lesson Downloads
12 Minor Pentatonic Scales

File Type:

pdf

Pentatonic Scale Choices Cheat Sheet

File Type:

pdf
Practice Tips
Play up and down the pentatonic scales in fragments to get used to the unusual intervals in the pentatonic scale.

Spend time listening to players such as Coltrane and McCoy Tyner to understand the importance of patterns in pentatonic improvisation.

Download and print the pentatonic scale cheat sheet. This document outlines some pentatonic formulas for different chord qualities.

It's best think in terms of formulas and scale degrees and this information is included. The formulas highlighted in green are some colourful pentatonic relationships to get you started.