Syllabus Overview
Our Vocal Accompaniment Syllabus provides unique insight into the art of vocal accompaniment from the perspective of both the singer and the jazz pianist.
Who Is This Syllabus For?
Students who want to accompany themselves singing
Students who want to learn to accompany other singers
Students looking for insight on performing with other musicians
Learning Path
Whether you sing and play yourself, or if you want to learn to accompany others, this step-by-step syllabus is packed with actionable tips and insight to take you to the next level.
1.
Working With Vocalists - Goals & Expectations
If you're new to vocal accompaniment it's important to understand what is expected of you as an accompanist. The first lessons provide valuable tips and insight on working with singers to help you and the singer achieve the best performance possible.
2.
Vocal Accompaniment 101 - The Basics
When accompanying a singer, there are some really easy ways to make that singer shine. That's the job of the accompanying pianist, to support and enhance the singer's performance.
 In these lessons we explore the key elements of an effective accompaniment.
3.
Taking Solos & Common Endings For Vocalists
You've been laying off the melody and giving your singer the space to express and modify at their leisure. We now cover how to shine during your solo. We also cover the common endings that you will encounter with vocalists which include the tag ending and the rubato ending.
4.
How & Why We Need To Transpose
Transposition is the process of taking a tune in a certain key such as A Minor and changing it to another key such as C Minor. We discuss why this is important and we learn the basics of quick transposition. We break down the transposition process into 6 easy-to-follow steps.
5.
Vocal Drills & Exercises For Singers
In these lessons we explore how to accompany yourself singing and combine your talents both as a pianist and as a singer. We explain how to test your vocal range and we demonstrate vocal exercises that can help you gain valuable information about your voice.
6.
Vocal Jazz Piano Arrangements
For those who want to pursue the path less traveled in jazz, as the singing pianist, you will find great tips here to help you to further your craft. These tips are also valuable for those pianists who like to sing, and just want to dig deeper into the music and connect to the piano.
Courses
The Vocal Accompaniment Syllabus contains 2 courses which should be studied in the following order:
Open
1.

How To Accompany Singers

0%

11 Lessons

Lesson Tracking is a pro student feature -

sign up

to track your learning journey

Get Started Now
Open
2.

How To Sing & Play Jazz Piano

0%

12 Lessons

Lesson Tracking is a pro student feature -

sign up

to track your learning journey

Get Started Now
Your Teachers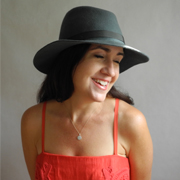 Lyndol Descant
Lyndol is a composer, singer, and pianist with a unique and uplifting musical style reflecting her travels around the world. She merges jazz vocals with rock and touches of folk. Her refined piano skills express raw emotion, especially in her improvisation.
View Full Bio
Downloads
Triads Notation & Worksheet

File Type:

pdf

7th Chords In All 12 Keys

File Type:

pdf

How To Transpose Jazz Standards

File Type:

pdf

1625 Lesson Notation

File Type:

pdf
Forum Threads
Ask questions to get prompt replies from our team of teachers, participate in improvisation exercises and studies, and join in the discussion with students and teachers from around the globe:
Student Reviews
It's what our students say that really means something. We use Trustpilot because it tells us – and everyone else – exactly what real students think of our online school and community. These reviews tell us what our students love. What they love a little less. And where there's room for us to improve. Read on to find out what PianoGroove's students think of our service: