Biography

Robert has had the pleasure of playing at San Francisco bay-area venues such as Yoshi's, the Boom Boom Room, Doc's Lab, the Agenda Lounge (back in the day), and the SFJAZZ Miner Auditorium, and has shared stages with renowned players such as Nancy Wright, Calvin Keys, Will Weston, Terrence Brewer, and many more, playing jazz, blues, R&B, and rock and roll. His 2015 debut Hammond organ combo release Big Shoes peaked at #11 during its nine weeks on the CMJ charts, and his 2018 album Closer to Home peaked at #1 on RMR's jazz chart, #5 on NACC's jazz chart, and #32 on JazzWeek's Top 50. Among his many inspirations Robert counts the playing of Jack McDuff, Billy Childs, Larry Goldings, Herbie Hancock, and Tony Monaco. Robert currently plays accordion as a member of Mission Hot Club, and enjoys doing side jobs as a recording engineer and session player on organ, piano, accordion, and vocals.
Styles, Genres & Skills
---
Robert's Lessons
---
Videos Of Robert
---
Study With Robert
Location
San Francisco
Types of tutoring offered
Currently just teaches through PianoGroove
Styles & genres taught:
Enquire about lessons and teaching:
https://www.pianogroove.com/join/
---
Event Work
Organ Combo Bandleader
Robert has released two albums in a jazz organ combo setting. "Big Shoes" (2015) contains all original compositions, while "Closer to Home" (2018) shares with the listener some underappreciated gems composed by greats of the soul-jazz repertoire (and has a few originals as well). Shortly after its release, "Closer to Home" topped the Roots Music Report college jazz radio charts.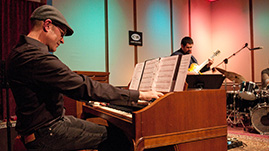 ---
Recording Sessions
Robert plays keyboards and sings for recording sessions, and does engineering and mixing for sessions as well.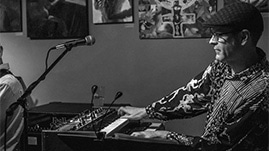 ---
Gypsy Jazz and Swing Accordion
Robert plays accordion with Mission Hot Club and freelances with other acoustic jazz groups.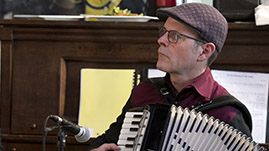 ---
Solo Piano
Robert plays solo jazz piano for parties and corporate events.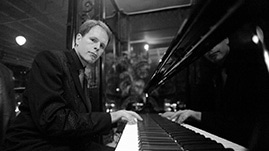 ---