Brazilian Grooves Course
Learn the groove of authentic Brazilian Samba & Bossa Nova piano. Taught by 3–time Latin Grammy nominee and master pianist Jovino Santos Neto.
Buy Course
Summary Information:
One-time purchase - learn at your own pace, with unlimited access to this course.
Difficulty: Intermediate
View Online with Lifetime Access
Video Slow Down Controls
A/B Loop
Theory Lessons
Performances & Arrangements
19 PDF Files & Lesson Supplements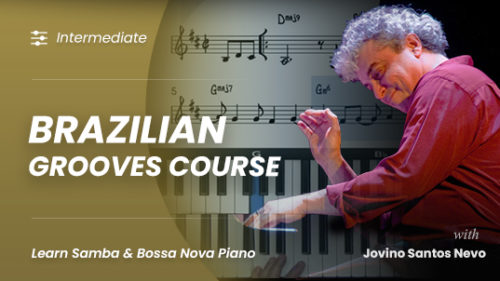 Brazilian Grooves Course
Learn the groove of authentic Brazilian Samba & Bossa Nova piano. Taught by 3–time Latin Grammy nominee and master pianist Jovino Santos Neto.
Buy Course
This course is dedicated to the music and the grooves of Brazil.
Taught by three-time Latin Grammy nominee – Jovino Santos Neto – master pianist, composer, arranger, and one of the top Brazilian musicians working today.
Bossa Nova & Samba Jazz
One of the main styles of Brazilian music is Bossa Nova. Bossa Nova can be defined as a musical style where the vocal element is very subtle. This contrasts with the 'big projecting vibrato voice' of other musical styles.
There is a more instrumental style of Bossa Nova music which is known as "Samba Jazz". This genre covers the same tunes as Bossa Nova, but the music is played with more energy and at faster tempos of around 100pm.
In this course, we will explore and demonstrate the key differences between these 2 styles of Brazilian music.
Antonio Carlos Jobim
Widely considered as one of the great exponents of Brazilian music; Antônio Carlos Jobim was a Brazilian composer, pianist, songwriter, arranger, and singer. Jobim left hundreds of beautiful compositions and in this course we will explore 6 of Jobim's most famous works:
Some of Jobim's compositions were the most recorded tunes in the world, and this course will pay homage to the brilliant harmonies and melodies of this master composer.
João Gilberto
João Gilberto is a Brazilian singer, songwriter, and guitarist. Whilst Gilberto was not a composer, his guitar comping styles set the history for what became the Bossa Nova comping style. His softly whispered vocals later became synonymous with the Bossa Nova style.
Bossa Nova is a style of vocal music that benefits from the microphone. The singer can get very close to the microphone and 'whisper' the melodies. This was the style that João Gilberto premiered, and has since been taken on by many other musicians.
The Structure Of Brazilian Music
When playing the music of Brazil you should know about its structure:
The Rhythmic Structure
The Harmonic Structure
The Melodic Structure
Throughout this course, we will explore and examine the essential ingredients of the Brazilian groove.
Course Introduction
1.
We start this course with a brief overview and history of Brazilian music and we distinguish the key differences between Samba & Bossa Nova.
Theory Lessons
1.
We examine the components of both the right and left hand and explore the interplay between the drums, the bass lines, and harmony.
2.
In this lesson, we explore rhythms, voicings and comping patterns for common chord progressions in major keys such as the 25, 251, & 1625.
3.
Minor progressions often contain altered tones which can be used to add interesting colours to your progressions and groves.
4.
Using a simple 25 progression, we will demonstrate the key differences between improvising with a straight feel, and with a swing feel.
Brazilian Standards
1.
The first jazz standard lesson in this course is "Corcovado" written by the great Antonio Carlos Jobim and lyrics by Vinicius de Moraes.
2.
One of the best ways to learn a piece of music is to first learn how to accompany it. This tutorial demonstrates using the tune "Corcovado".
3.
Jobim and his musical partner Vinícius de Moraes wrote this song about a beautiful girl who walked past them on her way to the beach every day.
4.
"Wave" is a song that Jobim composed whilst in the USA. According to Jobim, the song was written as a 'love letter' to his hometown of Rio de Janiero.
5.
In this lesson we create an arrangement for the tune "Insensatez" by Antonio Carlos Jobim. This tune is also known as "How Insensitive".
6.
Learn to play "Triste" for solo piano performance. We explore chord voicings, accompaniment, reharmonisations, and improvisation.
7.
Learn some important improvisation principles over the tune "Triste" and listen to iconic Elis Regina recording with Jobim on piano.
8.
In this lesson we explore the harmony and melody of the tune "Samba de Verão" also known as "Summer Samba" written by the great Marcos Valle.