Syllabus Overview
Our Hand Independence Syllabus uses the Chicago Blues and Boogie-Woogie styles to develop a greater sense of independence between our right and left hand.
Who Is This Syllabus For?
Students who want to develop their hand independence
Students who want to improve their sense of time and groove
Students who want to understand and enhance their swing feel
Using the 12 bar blues form, we explore left hand shuffle patterns with right hand comping, licks, and improvisation.
Learning Path
This syllabus starts with a study of the Chicago Blues style which uses left hand shuffle patterns with syncopated right hand comping and improvisation.
We then progress onto the Boogie-Woogie course which is characterised by faster tempos training us to develop our hand independence whilst keeping a solid and steady groove.
1.
The Origin Of The Blues
We start with a discussion of the origin of the blues and we cover the 12 bar form and harmonic structure. The 12 bar blues is usually based on the 12 bar form which utilises 3 chords and expresses deep feeling in a very rhythmic way.
2.
Left Hand Shuffle Patterns
We explore shuffle patterns based around the 5th and 6th interval in our left hand. This is one of the most useful shuffle patterns to learn because of its simplicity. It provides the foundation for developing our right hand independence over a steady left hand rhythm.
3.
Right Hand Comping Patterns
After working on our left hand shuffle, we now switch the focus to our right hand. We cover a number of useful comping patterns and rhythmic exercises. We discuss the core principles for effective right hand comping using triads, 7th chords, and extended chord voicings.
4.
Intros, Turnarounds & Endings
At just 12 bars long, the 12 bar blues is a short form. The turnaround is used to propel one chorus into the next and maintain a steady stream of music. We explore how to use licks, riffs, and common chord progressions to create powerful intros, turnarounds, and endings.
5.
Right Hand Licks & Riffs
Blues is largely about improvisation. Once we have developed a steady left hand and right hand chording, we can begin to experiment with licks and riffs. These lessons will inspire you to build your own vocabulary that you can use to improve your right hand independence.
6.
Boogie-Woogie Piano Style
After studying Chicago Blues we progress onto the faster Boogie-Woogie style. These lessons have been carefully planned to provide a methodical approach to master the style. It's important to practice the slower Chicago Blues before watching the Boogie-Woogie lessons.
Courses
The Hand Independence Syllabus contains 2 courses which should be studied in the following order:
Open
1.

Introduction To Chicago Blues

0%

8 Lessons

Lesson Tracking is a pro student feature -

sign up

to track your learning journey

Get Started Now
Open
2.

Boogie-Woogie Piano Course

0%

7 Lessons

Lesson Tracking is a pro student feature -

sign up

to track your learning journey

Get Started Now
Your Teachers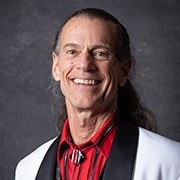 Steven Flynn
Steven Flynn's love of his music shines through his performances. His joy is sharing this music with others. Steve's energetic piano and vocals bring a smile to the face and a tap to the toe, sometimes inspiring the listener to jump up and dance!
View Full Bio
Downloads
12 Bar Blues Variations

File Type:

pdf

Left Hand Shuffle Patterns PDF

File Type:

pdf

Single Note Bassline Patterns

File Type:

pdf

Comping Patterns Lesson Notation

File Type:

pdf

Licks & Riffs Lesson Notation

File Type:

pdf

Intros, Endings, & Turnarounds Lesson Notation

File Type:

pdf

"Spann's Stomp" Improvisation

File Type:

pdf

"Trouble In Mind" Chord Changes

File Type:

pdf

"Trouble In Mind" Transcription

File Type:

pdf

Boogie-Woogie 12 Bar Form

File Type:

pdf

Boogie Woogie Basslines PDF

File Type:

pdf

Boogie Woogie Comping Patterns

File Type:

pdf

Boogie Woogie Riffs & Licks

File Type:

pdf

"Boogie-Woogie Prayer" Transcription

File Type:

pdf

"Duwamish River Boogie" Transcription

File Type:

pdf
Forum Threads
Ask questions to get prompt replies from our team of teachers, participate in improvisation exercises and studies, and join in the discussion with students and teachers from around the globe:
Student Reviews
It's what our students say that really means something. We use Trustpilot because it tells us – and everyone else – exactly what real students think of our online school and community. These reviews tell us what our students love. What they love a little less. And where there's room for us to improve. Read on to find out what PianoGroove's students think of our service: