Syllabus Overview
Our Advanced Harmony Syllabus introduces a range of sophisticated voicing techniques including block chords, drop 2, Barry Harris Voicings, and diminished harmony.
To make the most of these lessons, make sure you have completed the earlier syllabuses in the PianoGroove library.
Learning Path
Our Advanced Harmony syllabus builds upon all previous lessons and courses. The ideas and concepts covered in this syllabus can be applied to a wide range of settings; solo piano, accompanying other musicians, and creating improvised fills and embellishments.
1.
Block Chords & The 4 Way Close
Block chords are used to harmonise step-wise melody lines, create interesting fills, and tasteful accompaniments. In this series of lessons we explore the most common types of block chords including the 4-Way Close, Barry Harris Voicings, & Red Garland Voicings.
2.
Drop 2 Voicings
Drop 2 voicings can be heard in the recordings of many of the great jazz pianists and they are an extremely useful tool for harmonising the melody of jazz standards. To build a drop 2 voicing, we take a simple 4 way close and drop the 2nd to top note into our left hand.
3.
Pentatonic Voicings
Pentatonic voicings are 5 note voicings derived from the pentatonic scale. These voicings are mainly comprised of 4th intervals and create a modern and angular sound. Pentatonic voicings are harmonically ambiguous and so they are well suited to comping under a soloist.
4.
The 1625 Progression
The 1625 progression is great for introductions, turnarounds, endings, and also to transition between tunes. We explore the relationship between these 4 diatonic chords and then we embellish the voicings with chord extensions and altered tones and tensions.
5.
The 36251 Progression
We can extend the 1625 progression to create more harmonically complex and elaborate chord progressions. We apply other areas of jazz theory such as upper structure triads, suspended harmony, and block chords to crate rich and interesting harmonic progressions.
6.
Diminished Chords & Voicings
Diminished Harmony is an interesting area of study for the jazz piano student. In this section of the syllabus, we explore the role and purpose of diminished chords, their relationship to dominant chords, and how to voice and navigate diminished chords in jazz standards.
Courses
The Advanced Harmony Syllabus contains 3 courses which should be studied in the following order:
Your Teachers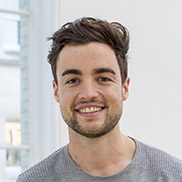 Hayden Hill
Hayden founded PianoGroove in 2015 with the goal of making the world a more musical place. He shares his love for jazz piano through his online courses and manages the community area of PianoGroove.
View Full Bio
Downloads
Block Chords Intro

File Type:

pdf

Drop 2 Voicings Lesson Transcript

File Type:

pdf

Major Pentatonic Scales In 12 Keys

File Type:

pdf

Pentatonic Scale Choices Cheat Sheet

File Type:

pdf

Comping Lesson Supplement

File Type:

pdf

1625 & 436251 Introduction Formulas

File Type:

pdf

Major Scale Diatonic 7th Chords

File Type:

pdf

143625 Progression – All 12 Keys

File Type:

pdf

Minor Introductions Lesson Notation

File Type:

pdf

Half Whole Diminished Scale Groups

File Type:

pdf
Forum Threads
Ask questions to get prompt replies from our team of teachers, participate in improvisation exercises and studies, and join in the discussion with students and teachers from around the globe:
Student Reviews
It's what our students say that really means something. We use Trustpilot because it tells us – and everyone else – exactly what real students think of our online school and community. These reviews tell us what our students love. What they love a little less. And where there's room for us to improve. Read on to find out what PianoGroove's students think of our service: